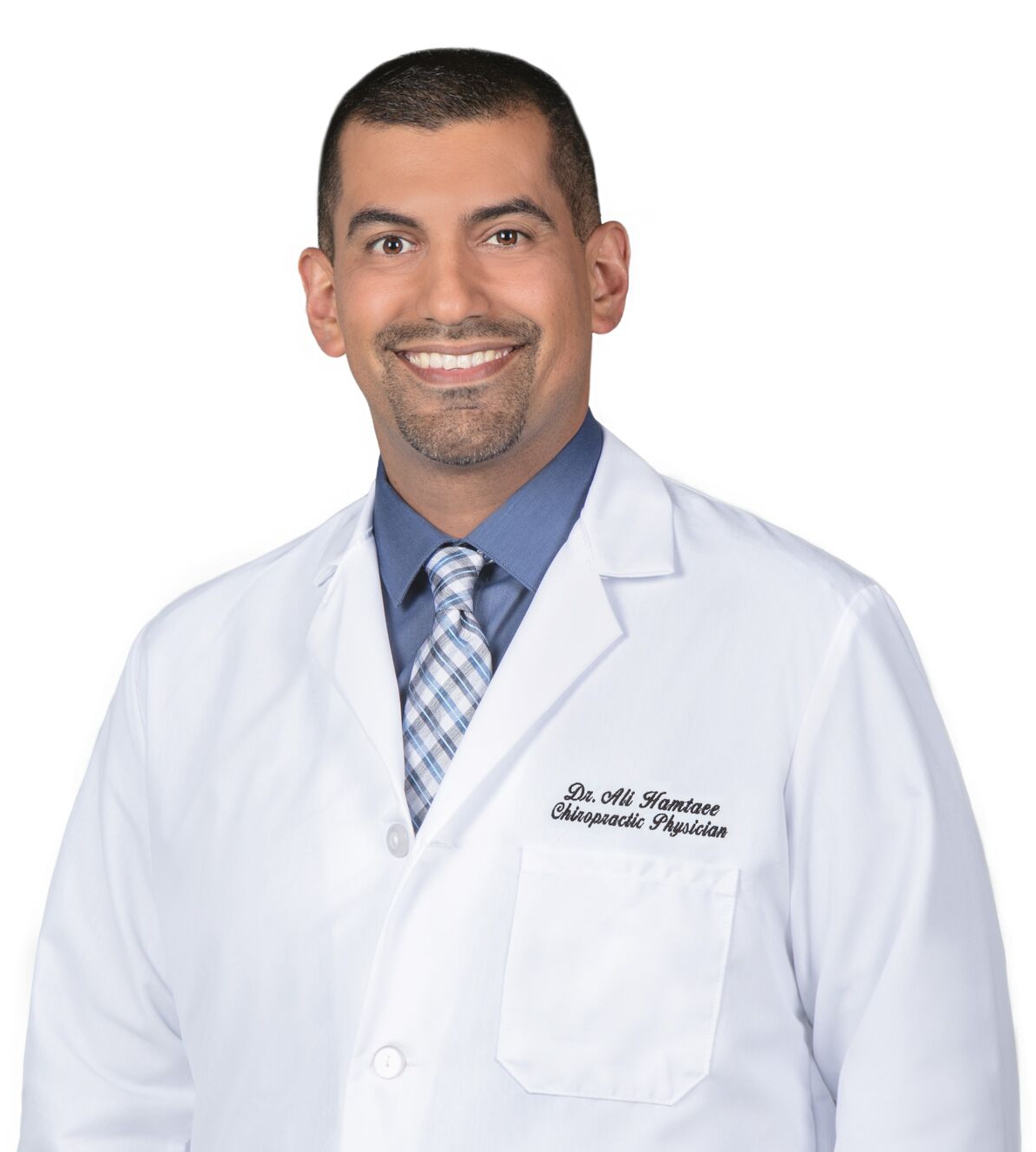 Dr. Ali Hamtaee
Chiropractic Physician
Hello, my name is Dr. Ali Hamtaee with Spine Correction and I would like to welcome you to our website. If you have heard anything about me then you have heard about how involved in the community I have been since I was very young, and how passionate I am about the health of those I come in contact with. I am excited to help everyone reach their potential, especially when it comes to their health. One of the first things you may notice about our office is that we are different. I would like to take the time to explain exactly who I am, where I am from, why I am different, and how I can help you and your family with your healthcare needs.
I am a long-time resident of Polk County. My family moved to Winter Haven when I was just three years old. I attended Garner elementary as well as Garden Grove elementary. I then attended Jewett and Denison Middle School. After that I attended Winter Haven High School my Freshman year and finished up at Lake Region High School where I graduated with honors, held many club positions such as the Student Body and Key Club, and was voted for Most School Service.
I attended Polk Community College in Winter Haven where I was the President of the Student Body and then transferred to The University of South Florida in Tampa where I completed my Undergraduate Studies. I then continued my education at Parker College of Chiropractic in Dallas, Texas where I received my Doctorate in Chiropractic as well as a Bachelors in Science in Human Anatomy.
I injured my lower back while lifting weights in the gym during undergrad. When I describe the pain I refer to it as an excruciating, debilitating pain that literally took my breath away. I was recommended to try chiropractic care. After a series of visits to a chiropractor, the pain started to diminish. After the significant impact Chiropractic had on my health I decided to pursue it as a career so that I could help others improve their health as well, naturally.
I grew up in a house where medication was used only when it was an absolute necessity and only after every natural approach was attempted. In my house prevention was key. At a very young age my father would juice whatever vegetables he could get his hands on and make us drink them on a daily basis. To him it didn't matter how bad the taste was so long that it contained the nutrients to keep us healthy, and that is the exact reason my brother and I would run and hide the second we heard the juicer turn on. This practice still continues in my family and I would like to introduce the wellness lifestyle from my family to you and your family if you are interested.
At Parker College of Chiropractic I learned 9 different techniques, but chose to concentrate on the Gonstead Method of Chiropractic because this is what helped me. I received over 150 hours of formal training and over 1000 hours of informal training in the Gonstead Method, in addition to the 5,000 hours of chiropractic school requirements. I held many leadership positions, to include serving as the President of the Gonstead Club at Parker College. The Gonstead Method aims to correct the root cause of your health problem by analyzing and correcting the vertebra and its related intervertebral disc. The Gonstead Method utilizes a system of five specific criteria for a thorough and specific analysis of your spine and overall health.
I look forward to serving you by helping you not only get rid of your pain, but also by enhancing your healthcare needs and to achieve your health goals. If you are looking for a chiropractor in the Winter Haven, Haines City, Lake Wales, Dundee, Lake Alfred, Poinciana, and Kissimmee areas please schedule an appointment for a free consultation. If nothing less please stop in and meet me and my team. We will be looking forward to it!
When looking for a chiropractor in Polk County, call us for a free consultation and we will welcome you like family.